Economists believe that it is necessary to temporarily suspend the collection of taxes on gasoline within 2-3 months to reduce the price of this item.
According to the latest decision of the Inter-Ministry of Industry, Trade and Finance, from 15:00 on June 21, petroleum domestic price increase for the 7th consecutive time. Specifically, gasoline E5RON92 increased by 185 VND/liter, priced at 31,302 VND/liter; RON95 gasoline increased by 498 VND/liter, priced at 32,873 VND/liter. Meanwhile, oil products increased more strongly, diesel oil increased by 999 VND/liter, priced at 30,019 VND/liter; kerosene increased by 946 VND/liter, to 28,785 VND/liter and mastic oil increased by 378 VND/kg, priced at 20,735 VND/kg.
It doesn't work!
Increasing gasoline prices and tax reduction solutions to cool down this item continue to be of particular interest to people and businesses. However, the proposal of the Ministry of Finance made many people evaluate it as just "salt in the bucket" compared to gasoline price oil is peaking now.
Accordingly, the Ministry of Finance reduced the environmental protection tax on gasoline from 2,000 VND/liter to the floor level of 1,000 VND/liter; jet fuel decreased from 1,500 VND/liter to the floor level of 1,000 VND/liter; diesel oil decreased from 1,000 VND/liter to the floor level of 500 VND/liter; mastic oil, lubricating oil reduced from 1,000 VND/liter to the floor level of 300 VND/liter; grease reduced from 1,000 VND/kg to the floor level of 300 VND/kg; kerosene stays at 300 VND/liter because this is the floor in the tax bracket.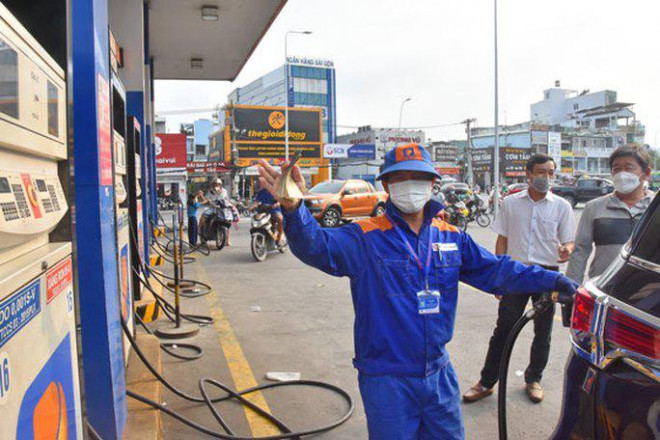 Economic expert – Assoc. Prof. Dr. Nguyen Thuong Lang (National Economics University) suggested that the competent authority should drastically reduce fuel tax. Accordingly, it is necessary to suspend the collection of all taxes in the petrol price structure, accept a 2-3 month budget deficit to reduce fuel prices. "We still have room for tax reduction, so we need to drastically reduce taxes, then consider other options. It is not advisable to reduce "trickle" like the past time or the recent proposal of the Ministry of Finance" – Prof. Dr. Nguyen Thuong Lang proposed.
Regarding excise tax on gasoline, Assoc. Prof-Dr. Nguyen Thuong Lang said that in the current urgent context, it is not time to discuss the rationality or unreasonableness of this tax, but in the immediate future, it is necessary to temporarily suspend it. collect. Mr. Lang noted that if Vietnam temporarily suspends the collection of taxes, it will bring down the price of gasoline, possibly causing smuggling. In the long term, Associate Professor-Dr. Nguyen Thuong Lang believes that it is necessary to ensure the supply of petroleum. This is also the long-term solution that Assoc. Prof. Dr. Ngo Tri Long mentioned besides the "valve" of tax reduction as he mentioned above.
Meanwhile, the Ministry of Finance said that excise tax is only collected on gasoline, not on oil of all kinds. The Law on SCT does not provide for tax reduction for goods and services subject to excise tax. This agency said that in Vietnam, the Law on SCT has stipulated that gasoline is subject to tax since 1999. This regulation is suitable for tax collection purposes and in accordance with international practices.
On the other hand, currently only gasoline products are subject to excise tax, so if the tax reduction for gasoline products is not really effective, the goal of tax reduction is not to be achieved. input costs for production and business activities, and inflation control because oil is the main commodity for production and business activities. In addition, the adjustment to excise tax falls under the competence of the National Assembly, so it must be submitted to the National Assembly for consideration and decision, so it cannot be applied immediately, while gasoline prices fluctuate rapidly at times. The time is short, so there will be a certain delay.
Need to deploy soon
Talking to a reporter of Nguoi Lao Dong Newspaper, Mr. Truong Tien Dung – General Director of Ho Chi Minh City General Materials Joint Stock Company, Standing Vice Chairman of Ho Chi Minh City Food and Food Association – mentioned the situation of many businesses " "clinical death" due to the impact of the Covid-19 epidemic. After the epidemic, businesses tried to recover, but there were many less positive signals, most businesses are still struggling to overcome internal difficulties as well as problems arising due to the high cost of input fuels and high prices. In the past time, the price of gasoline has increased dramatically, nearly 3 times higher than during the Covid-19 epidemic, so the impact on logistics and transportation fees… has exacerbated difficulties. of enterprises.
According to Mr. Dung, the Ministry of Finance's proposal to reduce the environmental protection tax for gasoline, oil and grease to the floor level in the tax bracket until the end of December 31, 2022, of which the environmental protection tax for gasoline is reduced to 1,000. VND/liter in the context that gasoline prices are on the rise, it will be difficult to control gasoline prices or the prices of other goods and services, so it will not significantly affect the reduction of economic indicators. However, this is a positive signal showing the Government's concern and companionship with businesses and people.
In fact, environmental protection tax is an indirect tax, collected directly from consumers, so experts believe that if it is adjusted to reduce environmental protection tax at this time, it will have a direct impact on people in general. According to Mr. Chung Thanh Tien, Director of Dong Hung Accounting Services Company, the price of petrol in the world is beyond the control of the state. However, each country, depending on specific conditions, will have its own policy. At this time, consumers' difficulties are much more urgent than environmental protection, so it is necessary to implement soon.
Meanwhile, Mr. Truong Chi Tham, Director of Vinh Thanh Transport Joint Stock Company, frankly said that if the environmental protection tax was reduced by 1,000 VND/liter, it would not make any sense when the price of gasoline increased continuously and there was no stopping point. Cargo transport is currently in the low season, but the high gasoline price causes great difficulties for transportation activities. Transport enterprises have to endure without making a profit or even a loss after deducting depreciation expenses and interest on bank loans. In order to limit losses, it is very necessary for the state to review taxes and fees and quickly exempt and reduce them to save businesses.
According to Mr. Le Trung Tin, Chairman of the Ho Chi Minh City Passenger Car Transport Association, with the price of petrol rising too high as it is now, if it can be reduced any dong or so. The additional reduction of 1,000 VND in environmental protection tax is also valuable at this time.
However, the solution to reduce taxes and fees needs to be done immediately to reduce suffering. Tax and fee policy in some countries they do very well, like Malaysia, for example, their gasoline price is only about 11,000-12,000 VND/liter. "Therefore, it is also necessary to learn and share lessons from countries in the region to support businesses as well as domestic consumers" – Mr. Tin said.